Fourth Universe Liner Notes
SIDE A:
1. Sailing To Neptune 3:08
2. Deep Blue 4:21
3. Moon Without A Name 3:55
4. Travel With Me 2:18
5. The Seventh Planet 4:13
6. Closer To Home 5:01
7. Interstellar Mission 3:20
8. To The Ends of the Universe 3:01
SIDE B:
9. Around Orion 1:40
10. Galactic Wonders 3:00
11. Deconvolution 2:37
12. A Sky Full of Galaxies 2:18
13. Solar System Sojourn 3:28
14. The Mysteries of Mars 2:01
15. Life Zone Planet 4:15
16. Phobos 2:23
17. In Orbit 2:09
18. Rhapsody On A Red Planet 3:34
Total time 57:33
All selections written, performed on electronic keyboards, and recorded by Mark C. Petersen.
Cover art by Tim W. Kuzniar
Liner notes by Carolyn Collins Petersen
Special thanks to Andy Mark at Philadelphia Music Works.
Copyright 1992, Loch Ness Productions. All rights reserved worldwide. All selections BMI.
Some selections previously published as part of the MUSIC BACK-PACK series, a library of planetarium production music. Copyright 1986-1991, Loch Ness Productions.
The music on this album was composed for the following planetarium show soundtracks:
For Loch Ness Productions:


Voyager 2 At Neptune (#1, 2 ,3, 7);
Voyager 2 At Uranus (#5);
Hubble: Report From Orbit (#6, 8, 10, 11, 12);
The Mars Show (#14, 16, 17, 18).
For the St. Louis Science Center's McDonnell Star Theater:


Chronotiscity (#9, 13);
The Great Star Detective (#4);
Alien Whispers (#15).
---
To the dreamers . . .
who have guided humanity's
first tentative steps
off the planet and
out to the stars . . .
and . . .
to the planetarians
who tell the story . . .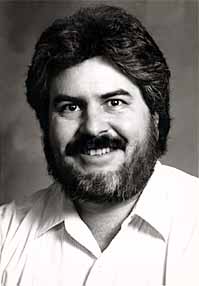 ---
For many years, space music has been heard in the rarefied domain of the planetarium, experienced only by the few who appreciated the unique offerings of the domed theater. The planetarium environment... the thrill of all-surrounding visual and all-encompassing aural experiences... complemented by a music all its own.
Unquestionably the most prolific composer for the medium, Mark C. Petersen's name has become synonymous with planetarium music. In the last decade, nearly 600 planetaria in the U. S. and 26 other countries have purchased Mark's original planetarium music for their shows — an unsurpassed and ongoing record. He has received commissions to compose and produce soundtracks for shows narrated by such notables as James Earl Jones, William Shatner, Leonard Nimoy, Patrick Stewart, Robin Curtis, Mark Lenard and Jonathan Harris. As a performer, Mark has presented live planetarium concerts at major planetarium facilities in the U.S. and Great Britain, including two sets of encore performances at New York City's Hayden Planetarium. His third album was released in 1990, titled Geodesium West of the Galaxy.
On Fourth Universe, the fourth album of the Geodesium (pronounced Gee-oh-DEE-zee-um) series, Mark uses Emulator and synthesizer voices to create his unique brand of planetarium space music. From the desolate planet-scapes of Mars, to flights of fantasy through deep space, the music portrays magnificent visions of the universe. Relaxing, yet provocative, the styles include "traditional" space music — that ethereal, beautifully floating music that characterizes the genre — as well as more dynamic and rhythmic works that transcend their e-music heritage, all with the rich textures that are the signature of the Geodesium sound.