A Gentle Rain Of Starlight Liner Notes
1. Winter Stars (4:09)
2. Star Hop (3:16)
3. A Gentle Rain Of Starlight (5:33)
4. Star Show (2:06)
5. Starfall (5:32)
6. Celestial Solitude (6:54)
7. Outbound (4:22)
8. The Alcor-Mizar Connection (7:00)
9. Horsehead Hideaway (2:54)
10. Adrift (4:39)
11. Silver Lagoon (3:57)
12. Starlight Lullaby (6:47)
13. A Cosmic Kiss (3:15)

Total time: 60:13
All selections written, performed on electronic
keyboards and recorded by Mark C. Petersen.
© Copyright 2007, Loch Ness Productions.
All rights reserved worldwide.
All selections BMI. Made in USA.
Cover art by Michael Gallegos.
Liner notes and peer review
by Carolyn Collins Petersen.
---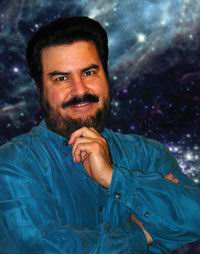 Geodesium albums by Mark C. Petersen:

A Gentle Rain Of Starlight (2007)
'Tis The Season (2002)
Stellar Collections (2001)
Anasazi (1993)
Fourth Universe (1992)
West Of The Galaxy (1987)
Double Eclipse (1981)
GEODESIUM (1977)
---
Space Music... from the stars to your heart.
Stargazing...
We step outside on a clear, dark evening and simply look up...
The stars are scattered overhead, impossibly distant pinpricks of light...
against the velvet darkness of night.
How would stargazing sound if it had a soundtrack...
if music could be light and stars had voices to sing...
They'd chime a cosmic welcome, and beckon us on flights of imagination...
through the celestial solitude of space...
They're out there for us to enjoy and explore...
We let our gaze hop from star to star...
drawing connections with our favorites, as cherished friends...
We can stargaze together.
Imagine that first long cosmic kiss...
turning into a slow dance together...
under a gentle rain of starlight.
And, if the night is warm enough, we can set our senses adrift...
to wander through space and time...
soothed by a starlight lullaby...
Float across silver lagoons of shimmering liquid light...
Touch the stars and revel in the beauty of the cosmos...
It's a journey anyone can take, and the path begins at your door.
Take in the star show tonight.
---
For many, space music is best heard in the rarefied environment of the planetarium, an experience for those who appreciate the domed theater's soaring depictions of the cosmos. The thrill of all-encompassing visual and aural experiences is complemented by a music all its own.
Unquestionably the most prolific composer for the medium, Mark C. Petersen's name is synonymous with planetarium music. He has recorded and produced soundtracks for more than 50 planetarium shows, with presentations at more than 800 planetaria in the U. S. and 47 other countries. Mark has also performed live in concerts at major planetarium facilities in the U.S. and Great Britain.
Mark uses electronic keyboards, samplers and synthesizers to create his unique brand of planetarium space music. From verdant planetscapes to flights of fantasy through deep space, the music portrays magnificent visions of the universe. Relaxing, yet provocative, the styles include the ethereal, beautifully floating music that characterizes traditional space music, as well as more dynamic and rhythmic works that transcend their e-music heritage.
Mark infuses all his music with rich textures that are the signature of the Geodesium (pronounced Gee-oh-DEE-zee-um) sound.
As with the seven previous albums in the Geodesium series, the impetus for the creation of A Gentle Rain Of Starlight came from the production of a planetarium show soundtrack. Mark then reworked many of the selections, adjusting their mixes from background tracks to foreground prominence. He hopes you don't get tired of him doing that.
Thanks to Garry Beckstrom, director of the Delta College Planetarium, for commissioning the project that inspired the creation of this music. And, always, Mark offers special thanks to Carolyn Collins Petersen for her critical eyes, ears, and support while this album was coming into existence.