Reseller Info
If you're a retail store manager looking to order our albums for resale, you have a couple of options.
You can order Geodesium albums directly from us. They are popular items in planetarium and museum gift shops; several stores have sold more than 1,000 pieces.
Our wholesale rates are competitive with other space music titles, so please contact us for a quote. Once we've provided you with our reseller price, you can place your orders online. Just use our regular order form, and leave a note in the message area that you're a reseller.
Our Manufacturer's Suggested Retail Price is $13 (okay, $12.97 in retail-speak) for CDs; it's the same price we sell them to the public here on our Web site. You choose the ultimate price and markup, of course; Amazon.com usually manages to sell more discs at retail than we do, often at higher prices too.
All our CDs are in jewel boxes (some with top spine labels), poly- or shrink-wrapped, and UPC-barcoded. We do ask for a minimum of 12 pieces for any resale order; titles may be mixed to reach that minimum. In-store demo copies are available on request, shipped with your first order. (Hint: they make great background music for shoppers, when played over your store's P.A. or a portable stereo behind the counter!)
If your store is associated with a planetarium or theater, you can download this image for the director to project as on-screen promotion. It features four album covers, and the message "on sale in our gift shop". This can be very effective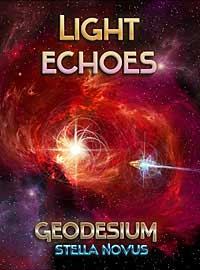 when the albums are used as entrance/exit music for the theater — especially when the feature program is a Loch Ness Productions planetarium show!
We've also created a fulldome music video called Light Echoes, from Geodesium Stella Novus. It's available free for fulldome theaters!
GEODESIUM (our first album), Double Eclipse, Anasazi, Stellar Collections, 'Tis The Season, Music From Infinity and Celestial Rhythms: NYC Live '85 are custom CD-Rs we make on an individual basis as orders require. While they're not commercially-replicated discs like our other titles, they are a professionally-created product, with full-color artwork and labeling, practically indistinguishable from a major-label release.
---

Through our affiliation with CD Baby, you can also order our Geodesium titles from ALLIANCE, one of the largest wholesale CD distributors in America. Maybe you already deal with them; if so, simply order through their B2B Web service as usual.