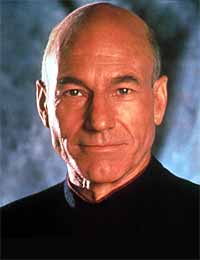 Patrick Stewart

• The Mars Show (1988)
• The Voyager Encounters
• MarsQuest

Patrick Stewart is an internationally acclaimed actor at home in the theatrical as well as contemporary film and television worlds.
He is known for such popular roles as Captain Jean-Luc Picard in Paramount's Star Trek series; Professor Xavier in 20th-Century Fox's X-Men; and Lyman Felt in the New York stage production of Arthur Miller's play The Ride Down Mt. Morgan. Patrick is an Honorary Associate of the Royal Shakespeare Company, where for more than twenty years he played a full range of Shakespearean roles, including King John, King Henry IV, King Henry V, Touchstone, Cassius, Titus Andronicus, Enobarbus, Oberon, Shylock, Prospero, and Leontes.
On television, Patrick Stewart has played Sejanus in I, Claudius; Karla in Tinker, Tailor, Soldier, Spy; Lenin in Fall of Eagles; Salieri in The Mozart Inquest; and Claudius in Hamlet. His film credits are many: Dune, Lifeforce, Little Lord Fauntleroy, The Doctor and the Devils, Codeword Emerald, Lady Jane, and Hedda.
In 1991 Patrick began performing A Christmas Carol, his award-winning adaptation of Charles Dickens's classic tale, in which he played more than 40 characters. He received a Screen Actor's Guild award for his portrayal of Ebenezer Scrooge in TNT's special presentation of A Christmas Carol.
Patrick has won many awards for his acting, including the Olivier Award in 1979 for his performance in Antony and Cleopatra; the London Fringe Best Actor award in 1987 for his role in Who's Afraid of Virginia Woolf?; the Will Award for his significant contributions to American classical theater from Washington D.C.'s Shakespeare Theater in 1996; and also that year, a Grammy for his narrative work on Prokofiev: Peter and the Wolf.

---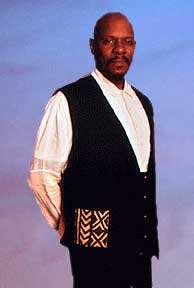 • Oceans In Space (1996)
Avery Brooks is well known to television audiences for his role as the serious and thoughtful Captain Benjamin Sisko on Star Trek: Deep Space Nine. He starred as Hawk in the ABC series A Man Called Hawk, continuing a role in which he first co-starred, for the series Spenser: For Hire. He starred in Solomon Northrup's Odyssey for PBS's American Playhouse, and Showtime's Uncle Tom's Cabin. In feature films, Brooks starred in American History X, and co-starred in The Big Hit. He was the narrator for the BBC production Walking With Dinosaurs, and the IMAX film Africa's Elephant Kingdom.
In addition to his television and movie performances, Mr. Brooks is well known for his theater work. He has performed in the role of Paul Robeson in two plays: Are You Now Or Have You Ever Been? and Philip Hayes Dean's Paul Robeson, both on and off Broadway. His other theater credits include the lead role of Othello at Washington D. C.'s Folger Theatre, the title role in the opera X: The Life and Times of Malcolm X, August Wilson's Fences and several roles at the New York Shakespeare Festival.
Mr. Brooks is a tenured faculty member at Rutgers University's Mason Gross School of Arts. In 1993, he was inducted into the Rutgers University Hall of Distinguished Alumni. In 1999, Brooks was presented with an honorary doctorate from Indiana University, where he received his bachelor's degree. He has also taught at Oberlin College and Case Western Reserve University, and has done extensive work with the Smithsonian Institution's Program in Black American culture. From 1993 through 1996 he served as artistic director of the National Black Arts Festival.
Mr. Brooks is also an accomplished musician and has performed with jazz artists Joseph Jarman, Lester Bowie, Henry Threadgill and Jon Hendricks. He has hosted several music-oriented documentaries, including the award-winning The Musical Legacy of Roland Hayes.

---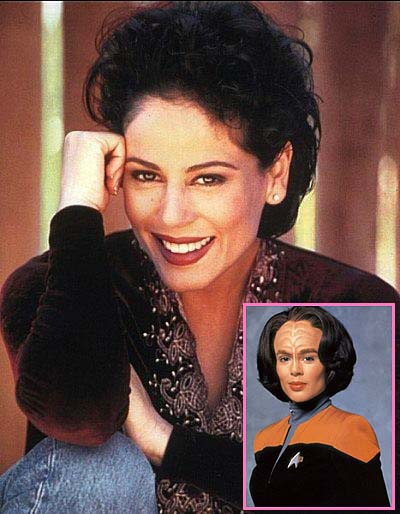 • Sky Quest (1993)
Roxann Dawson played the half-human, half-Klingon Chief Engineer B'Elanna Torres on TV's Star Trek: Voyager. A true-born California girl, Roxann attended Beverly Hills High School, and fondly recalls her visits to the school's planetarium.
She was a Theater Arts major at the University of California at Berkeley. Her first acting stint was the role of Diana Morales in the Broadway production of "A Chorus Line." She acted in numerous plays as a member of the Circle Repertory Company; off-Broadway in "The Tempest" for the Classic Stage Company; and "Accelerando" at the American Contemporary Theater.
Roxann was a series regular in the NBC series Nightingales and The Round Table. She had leading roles in movies-of-the-week "Mortal Sins" and "Dirty Work" for USA Network; "Pointman" for syndication; and the NBC telefilm "Broken Angel". She guest starred on the television series The Untouchables, Jack's Place and Equal Justice.
Feature film credits include "Guilty By Suspicion" and "Darkman II."
Roxann resides in Los Angeles with her husband, casting director Eric Dawson.

---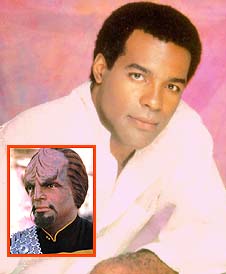 • Light Years From Andromeda (1997)
For the last decade, Michael has been covering his leading man looks with 90 minutes worth of make-up every day to create the other-worldly and beloved Worf, the Klingon Starfleet Academy officer in the TV series Star Trek: The Next Generation, Star Trek: Deep Space Nine, and motion pictures Star Trek VI: The Undiscovered Country, Star Trek VII: Generations and Star Trek VIII: First Contact.
Prior to Star Trek, he co-starred for three seasons as Officer Jed Turner on the ABC series CHiPs and has guest-starred in other prime-time shows, such as Getting By, Hotel, Knots Landing, Falcon Crest, and W.E.B. Other film appearances include Jagged Edge, Rocky and Demon Seed.
But acting wasn't always his ambition. Born in Luling, Texas and raised in Pasadena, California, he studied radio/television production at Pasadena City College. When he left school, his interests settled in music; it was there he started an early professional career as a performer, making his living in the mid '70s playing and singing in several rock bands.
In 1988, Dorn earned his pilot's license. Since then, he has flown with the Blue Angels and participated in the flight maneuvers of an F-16 with some of the nation's top guns. He now owns a T-33 military training jet, which he flies to air shows around the country.

---

• The Cowboy Astronomer (1993)
BAXTER BLACK is America's best-selling cowboy poet, the Poet Laureate of the Lariat. In addition to his many books, including his hardback, Croutons On A Cow Pie, Volume II, Baxter has catalogued his off-center cowboy poetry on at least six different cassette tapes and an Emmy-award-winning home video. With titles such as "#2 Hairball", "Range Fire", "Cowboy Standard Time", "Rudolph's Night Off", and "Why Do The Trees All Lean In Wyoming", Baxter's poems and stories spring from the wonderful world of cowboys and people of the land.
Baxter's talents have been enjoyed by millions — at banquet and concert appearances; as a commentator on National Public Radio; a nationally syndicated columnist; and on network television as a regular guest on The Tonight Show. People magazine called him "an American original"; the Denver Post referred to him as "Will Rogers' weird grandson".
Raised near Las Cruces, New Mexico, Baxter grew up in and around the livestock business. He became a large-animal veterinarian, dispensing his medicine and practicing his humorous songs and poems on countless cowboys who worked with him on ranches and feedlots around the mountain West. Before long, Baxter was spending as much time entertaining as he was doctoring livestock. Choosing the cleaner of the two options, Baxter hung up his plastic sleeve in 1982 after a 13-year practice, and jumped head-first into show business. He hasn't treated a case of foot rot since.
The narration for "The Cowboy Astronomer" was recorded in the studio of the Coyote Cowboy Company, on Baxter's ranch in Brighton, Colorado.

---
• 'Tis The Season / Season of Light (1993)
You may not have seen our narrator's name in lights, but millions of people know his distinctive voice. Noah Adams is a Senior Correspondent for the National Desk at National Public Radio, and is perhaps best known for his many years as co-host of NPR's news program "All Things Considered". His pleasant, easy-going delivery adds an elegant charm to our show; one planetarian customer characterized Noah's voice as being "as warm and soothing as a cup of hot cocoa!"
Adams' long and varied career in radio began in 1962 at WIRO/Ironton, Ohio, across the river from his native Ashland, Kentucky. He was a "good music" deejay on the morning shift, and played rock 'n' roll from 9 to midnight. Between shifts, he broadcast everything from local basketball games to sock hops. From 1963 to 1965, Adams was on the air from WCMI/Ashland; WSAZ/Huntington, West Virginia; and WCYB/Bristol, Virginia.
In 1971, he discovered public radio at WBKY-FM at the University of Kentucky. He began there as a part-time rock 'n' roll announcer, and soon became involved in other projects, including documentaries and a weekly bluegrass show. In 1974, he joined the staff full-time as host of a morning news and music program.
In 1975, Adams came to National Public Radio, where he worked behind the scenes editing and writing for the next three years. He became co-host of weekend All Things Considered in 1978, and in September 1982 he was named weekday co-host.
During 1988, Adams hosted Minnesota Public Radio's Good Evening, a weekly show that blended music with storytelling. He returned to All Things Considered in February 1989.
In November 1989, Adams hosted NPR's American West Series from Boise, Idaho. Two months later, he reported from Romania on the aftermath of the Ceaucescu government's downfall.
Adams has garnered many prestigious awards for individual and collaborative efforts. He wrote and narrated the 1981 documentary, "Father Cares: The Last of Jonestown," which received numerous honors.
In addition to his on-air work, Adams has published a 1990 collection of his essays from Good Evening entitled Saint Croix Notes: River Mornings, Radio Nights, as well as his 1992 book, Noah Adams on All Things Considered: A Radio Journal.

---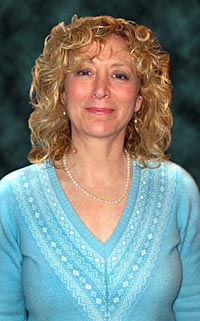 • HUBBLE Vision 2 (2004)
• Seasonal STARGAZING (2007)
For more than 20 years, Wren Ross has been an actor, singer, voice-over talent, and teacher in the New York and Boston areas. A dynamic and unique performer, Wren has created and starred in many original cabaret shows, and has recorded more than a thousand radio and TV spots. She has worked with such notable personalities as Walter Cronkite, Jason Robards, Ben Vereen and Mason Adams. She has narrated hundreds of corporate and educational projects, as well as voice mail for companies such as Bausch & Lomb, Travelers, FedEx, and Aetna.
Wren's voice has been heard in many museum exhibits in such facilities as the Carnegie Science Museum, Louisville Science Center, the Tennis Museum, the Clara Barton Museum, and the Great Lakes Museum. Among her TV voice-over credits are Nova, The Secret of Life, People's Century, Celebration of the American Family, Speaking the Unspeakable: The Art of Samuel Bak, and Prelude to Kosovo. One of Wren's favorite jobs was narrating the documentary, She Lives to Ride, a film about female motorcyclists.
For more about Wren, visit wrenross.com.

---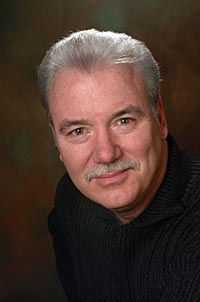 • Ness Vignette #2 (1987)
• More Than Meets The Eye (1993)
• HUBBLE: Report From Orbit (1990)
• MAGELLAN: Report From Venus (1992)
• HUBBLE Vision (1994)
• Seasonal STARGAZING (2007)
Roger has been doing voice-over work for more than 30 years. He spent much of that time in Denver, Colorado, and also ran one of Denver's premier voice-over studios, Omega Audio Productions.
Roger began his career as a radio announcer during his military deployment in Viet Nam. He worked for the fabled KIMN-AM radio station for ten years. If you live in the U.S., you've probably heard him giving voice to announcements for local and national television networks, as well as such cable offerings as A&E and the Food Network. He has also narrated a wide variety of training videos, nature films and slide shows for clients ranging from the government to corporate education.
For the past 20 years, Roger has specialized in promotional voice-overs for TV stations across the country, standing "on call" for as many as 28 stations. Roger currently resides in Albuquerque, New Mexico, where he divides his time between doing voice-overs and working as a master craftsman, making custom hand-carved Spanish Colonial doors and furniture. In fact, during his last Loch Ness Productions recording session, Roger says he was covered in sawdust.
For more about Roger, visit rogervoiceguy.com.