Last month, we added a new show from Melbourne Planetarium called Starlight to our catalog of fulldome content. It's a very worthy addition to an amazing repertoire of shows; the 38th show we acquired for distribution, joining 14 of our own fulldome creations. And, we have more coming!
With so many titles available, Mark set out to create updated sampler showreels. Now we have three available for you to peruse (simply click on the images to get to the samplers).
LNP Blast!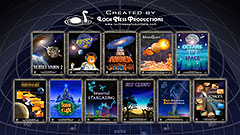 These are the feature-length shows we've made ourselves over the years and still popular with fulldome theaters. They feature carefully crafted scripts, original soundtracks, and — in some — celebrity narrators who bring extra cachet to the shows.  We're rightly proud of these shows, and pleased that so many fulldome theaters around the world have acquired and continued to run them!
LNP Collaborations Blast!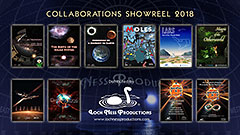 This reel features shows we've collaborated on with other producers. These include astronomy and entertainment pieces that continue to dazzle audiences around the world. Depending on what the shows have needed, we offered our expertise to their producers to refine narrations and scripts and add original music. We're very pleased to be associated with these fine producers and their wonderful shows.
LNP Distribution Blast!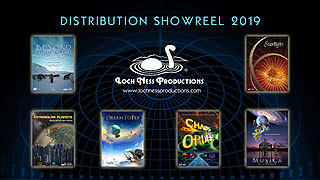 These are all the other fine shows we distribute. We scour the world's festivals, looking for shows for our curated collection of fulldome content.
They're all available to preview online, using players on our YouTube channel, or Flash players here on our site if your institution's nanny filters block streaming videos.
They're also available for download, so you can play them on your fulldome system and see how they look on your dome. Bring in your administrators and give 'em a taste of which shows you want to order next!
Whether we supply music and soundtrack expertise, script editing or voice-over work, we're incredibly pleased to work with such talented colleagues on fulldome production and distribution.
From Astronomy to Zoology in Fulldome
As you watch the clips for all of the shows blaze by, you'll marvel at the incredible breadth of content that's available for fulldome theaters. The most popular type of content in the market covers astronomy and space-related topics. That's only natural, considering the history of the planetarium theater. About three-quarters of the shows we make available are in that category.
However, there's so much more. As you watch the videos, you'll see music and arts entertainment. We have a show for children on how atoms and molecules work. Other shows cover biology, climate science, geography, geology, history of flight, oceanography, and zoology.
How do we find these offerings? For the past few years, we've traveled to fulldome festivals to see what's "out there". It's been a privilege to witness the premieres of some amazing showsand think to ourselves "Wow, planetarians will love this!" That's when we know we've got something lovely to add to our catalog.
For example, the gorgeous and elegant Dream to Fly, one of our favorites, combines history, art, and drama to teach audiences the history of flight. It got a standing ovation at its first showing at the Jena Fulldome Festival in 2013, and it never fails to touch the audience's emotions with its beauty.
Or, another of my favorites, the elegant exploration of exoplanets in the Boston Museum of Science's Undiscovered Worlds. Their latest show, From Dream to Discovery: Inside NASA, is a tour de force that takes you inside the U.S. space agency to see things most people never get to experience, and it's been recently updated with the latest Pluto findings.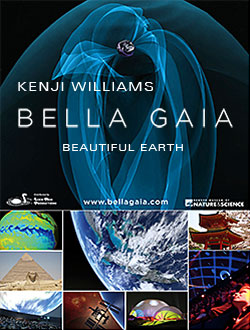 As domes continue to expand their repertoires, I hope planetarians will consider adding more music and art pieces — Chaos and Order, Magic of the Otherworld, MUSICA, and Bella Gaia. Or, even to have some fun with the SpacePark360 offerings we have. All these presentations prove you can have fun in the dome, enjoy a beautiful experience AND learn something, all at the same time!
I could go on and on about the wonderful shows we have in the Loch Ness Productions catalog, as well as on our sister site FULLDOME OnDemand. There's a big wide cosmos of content out there! Check out our showreels and trailers to see for yourself!