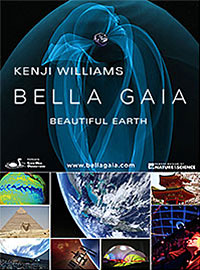 In 2008, attendees of the International Planetarium Society meeting in Chicago were treated to an amazing performance by Kenji Williams, the artist behind the show Bella Gaia. He combined gorgeous music with ground-based images of Earth as well as visions of our planet from space, in reproducing something called the "Overview Effect". The result completely wowed the audience. Since that time, he has performed it around the world, in addition to special performances for IMERSA Summit attendees. Now, Kenji has created an award-winning fulldome video of the performance, and we are pleased to be offering it in our catalog of shows.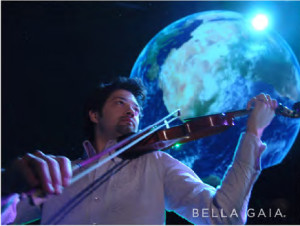 We had the opportunity to correspond with Kenji about the show, and asked him to share with us — and you — his insights into creating this beautiful fulldome presentation.
LNP: Bella Gaia is a beautiful performance piece, as we all saw in Chicago. Now it's a fulldome show. What challenges did you face when it came to making the fulldome version? What were your hopes as you transformed it?
KW: The aim of making the Bella Gaia fulldome version was to bring the magic of the live experience — mainly a transformational musical and visual journey — into the immersive world of the dome. The challenge was in the terrestrial live-action sequences, as there wasn't exactly the quality of content out there that I wanted. Yet, we were working with a very low budget and didn't want to get into that CG look. But, it is wonderful how limitations inspire creativity and I believe that is reflected in this unique production.
LNP: Many fulldome theaters are in educational settings and their operators usually want shows to support their curriculum needs. What would you tell them about the educational values of Bella Gaia? I've often wondered if the idea that music boosts educational performance areas is a good idea to bring up when pitching the show?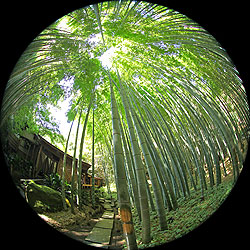 KW: It is no longer fringe science that proves that the human brain needs both the right and left brain working together to learn. Neuroscience and even trendy terms like "STEAM" prove that art needs to be part of science education. Bella Gaia engages the emotions, engages the right brain and inspires our emotional intelligence.
Don't just take my word for it — we won a NASA education grant based on using Bella Gaia as the initial engagement portal to inspire students to get deeper into the science, through more traditional educational workshops or materials that we can provide.
Our NASA education program conducted surveys proving that Bella Gaia works: 90% of respondents reported a greater understanding of the way the Earth works after just one show, and we doubled the respondents from 31% to 64% who said Earth plays a very important role in their personal lives and their families after just one show. The planetarium and education worlds must open their minds about the over-dependence on narration. One might think that the lack of narration would limit the educational potential. To the contrary, we have proven that it opens up new worlds of effective science education.
LNP: A large part of the show's effectiveness comes from this "overview effect" that you and the astronauts you've talked to describe. How is this different from the usual fulldome effect, where shows take audiences over landscapes and through spacescapes?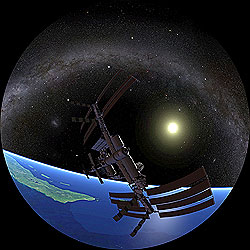 KW: The "overview effect" is a specific transformative effect that occurs when viewing the Earth from space. This life-changing experience that astronauts report leaves them with a deep sense of connection and appreciate for our home planet. All I can say is Bella Gaia has a "magic" method and formula that has had five astronauts vouching for the realism of the experience (an accurate simulation of space flight) and the NASA surveys mentioned above proved that Bella Gaia transforms people in the same way that astronauts feel after a real overview effect.
LNP: Where has the show played so far? What feedback do you get from fulldome theaters that have shown it?
KW: The fulldome version of Bella Gaia has played in many theaters, including the Macau Science Center in China, the California Academy of Sciences, the Denver Museum of Nature and Science Gates Planetarium, Boulder's Fiske Planetarium, the Boston Museum of Science, and many others. We received the Best Soundtrack award in Macau, and the show was a Top 3 finalist in the science Media Awards in Boston. I get many audience members saying it was such a refreshing change from the usual planetarium show and they wished there was more programming like Bella Gaia.
LNP: Are you planning a sequel, a Bella Gaia 2?
KW: Yes! We would love to make a longer version, and shoot our own terrestrial content.
Take our word for it, Kenji Williams's work on this fulldome show is superb! If you're looking for an artistic program that utilizes both science imagery and music, you can't go wrong with Bella Gaia. Feel free to surf on over to the show's web pages for previews, pricing, and ordering information.